A classic fast steel road race frame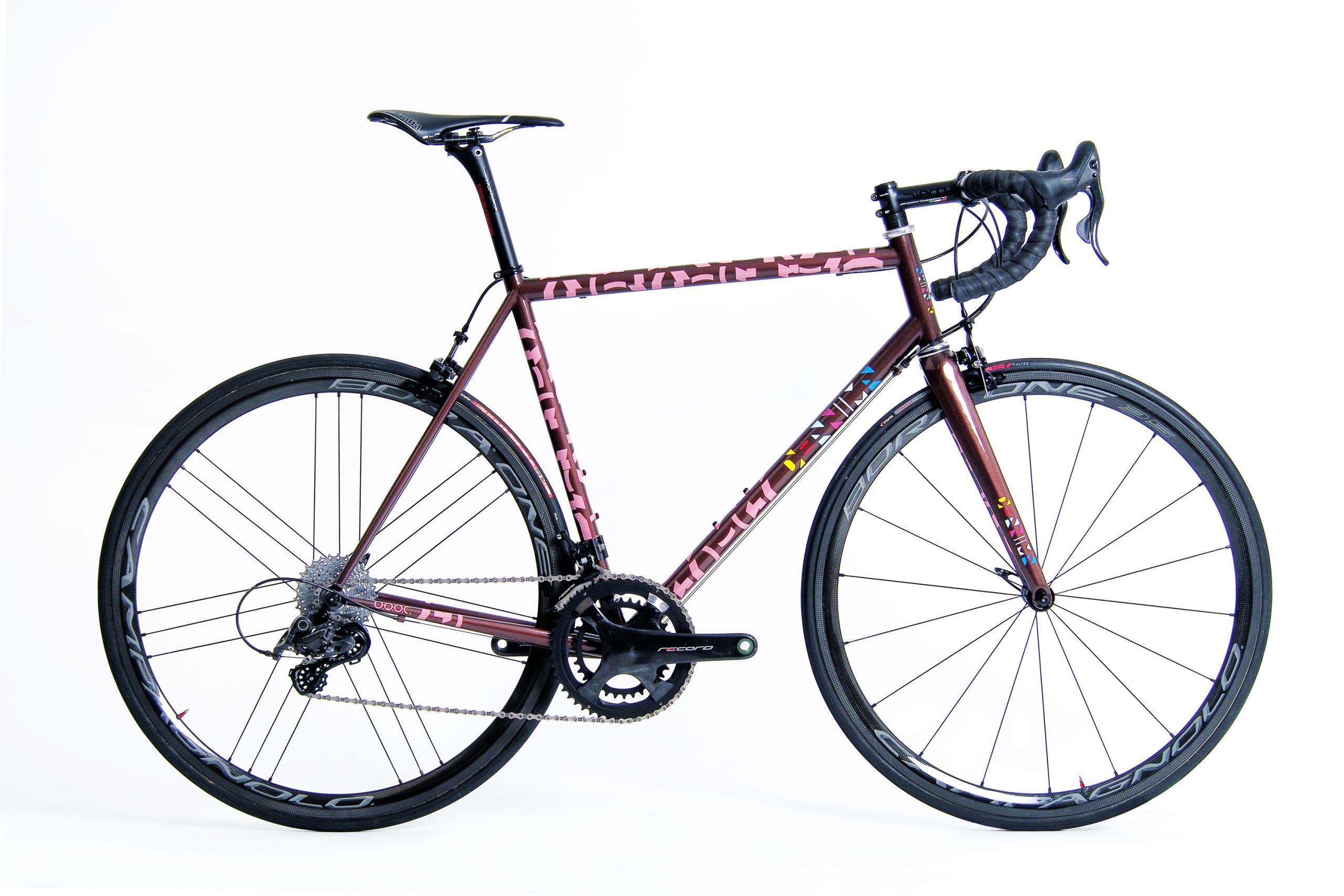 Bike.
This is our statement against the modern day fad of 'hype'…. this is a simple, fast and lightweight steel frame. It's against a lot of needless standards and fashion… it's about going forward fast, it's about the ride, it's about the simplicity of what a race bike should be and always was. When we did this frame we also wanted to raise a few questions about steel frames of today – this frame weighs 1350g without paint (size 56cm) – this is what it used to be 20 years ago – fads come and go but good lightweight steel frames never go out of fashion! Make no mistake, this bike is no slouch and will be around long after the latest carbon stallone is long dead.
Key Elements.
Lightweight steel frame.
Smooth Steel Ride Quality
Custom Dedacciai Steel tubeset.
Custom geometry option.
Custom CNC drop outs.
Another fact and fight me: Almost every hyper-optimized carbon wonder-bike is like an exquisite floor upon which you dance—an ideal medium on which to perform—whereas a modern steel rim-brake bike is like a partner you dance with, a living collaborator who brings more joy and rhythm if not love to the performance. There's so much more to that, and we'll get to it in an upcoming Bicycling member newsletter. But for now a final fact: This is one of the best I've ever ridden.

Bicycling.com – Bill Strickland
Rider.
You hit the pave on the main drag just like you did when you started riding and as you pedal harder the bike starts to float over the pave, you backside hovering over the saddle, you can feel the rough surface through the bike, but the edge has been filtered out, as you come back on to the tarmac it's all smooth as silk and peace rains again. If that's the rider you are then this is the bike for you.
You ride for pleasure, maybe race occasionally, you ride for the emotions more than the watts, you want to keep things simple and get back to the enjoyment of just riding. You have been through various carbon fibre bikes and are looking for something different, you want something to refresh your senses and give you a different perspective. If that's the rider you are then this is the bike for you.
Workshop.
All DeAnima frames are made in our small workshop in the foothills of the Dolomites here in Trento, Northern Italy. To make this frame we went back to our friends at Dedacciai and explained what we wanted to do and they produced the tubeset for us. Tig welded using the finest Dedacciai tubes this frame is available in both standard and custom geometry. Dont ask for disc brakes, internal routing – that is not what this frame is about.
Order.
Choose a O.Q.O.C and then we can start making it for you, it won't be hanging on the wall waiting for a customer, it will be built with your name on it. Once we have worked with you on the geometry and paint and you are happy, only then we will start to build your frame.
A DeAnima frame, like a tailor-made suit, is made for you and with that in mind it should express who you are, let the paint speak. Do you want it subtle and understated or do you want to make a statement and tell everyone who you are? See our paint designs.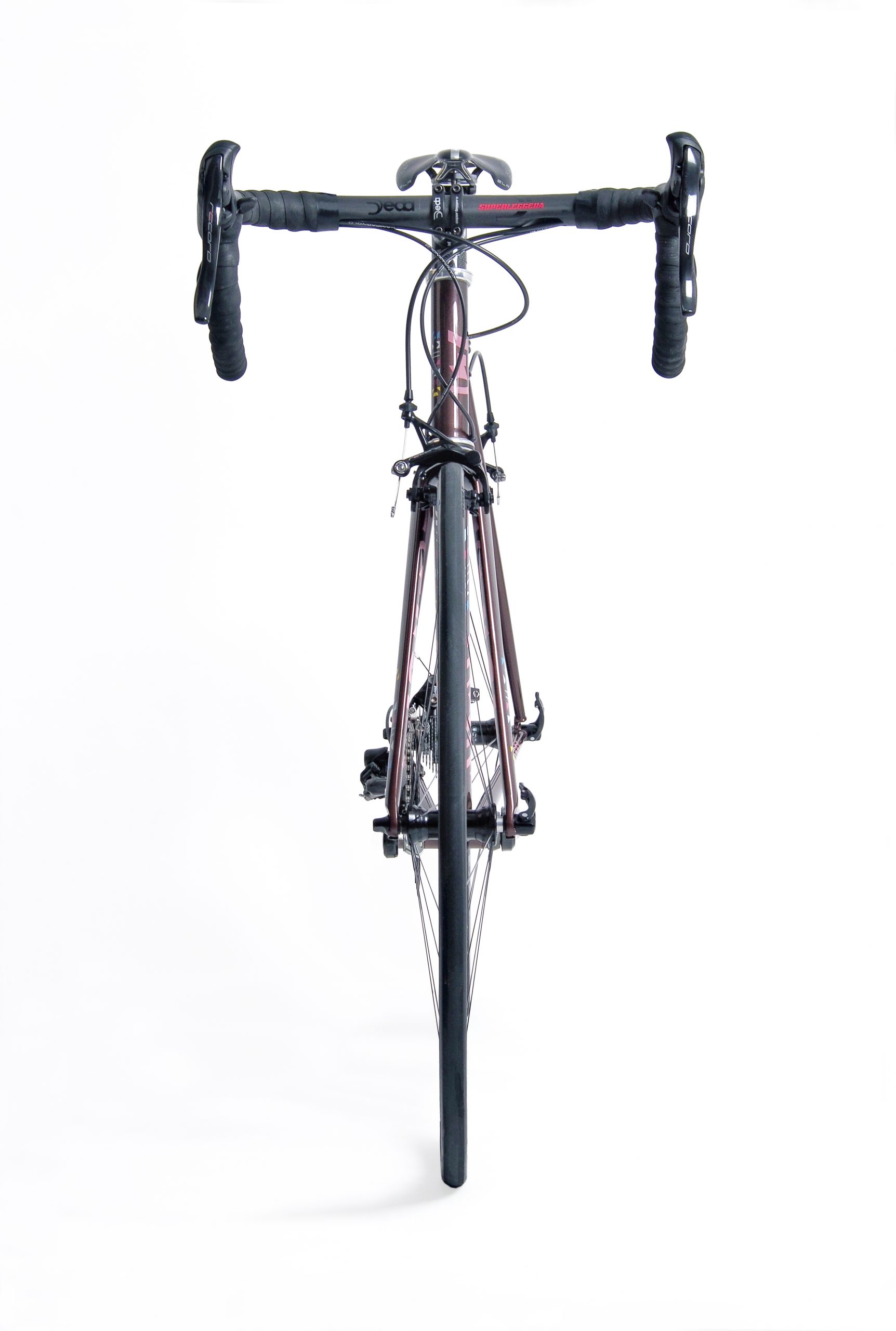 Details.
Built using Dedacciai Zero Custom tube-set, TIG welded.

Custom stainless steel CNC dropouts.
Front triangle tube diameter TT 31.7mm/ ST28.6mm/ DT35mm.
Full carbon fork.
BSA bottom bracket.
Seatpost diameter 27.2mm.
External cable routing mechanical or internal electronic.
External rear brake cable.
Standard 25mm tyre, 28mm on request.
Headset 1 1/8th threadless external.
Frame is available in standard or custom geometry.